In recent years, with the strengthening of international efforts to address global warming and achieve carbon neutrality, green transformation (GX) startups have emerged to the point where there are an estimated 3,000 climate-focused companies today.
In a recent episode of Moon Creative Lab's regular online event, "Moon Talk!," we asked Fuyuma Yamasaki of e-dash Corporation and Yusuke Toyoda of Digital Grid Corporation about the secrets to building successful GX-focused products and organizations.
Key Learnings
Focusing on the decarbonization domain
Overcoming challenges in product development
How to realize a big vision and involve stakeholders
Funding and hiring
---
Yusuke Toyoda joined Digital Grid in 2018 as a founding member and has served as president since 2019. He previously worked at a securities company after graduating from university, where he was involved in financial product structuring and mega solar development and investment.
Fuyuma Yamasaki was stationed in Silicon Valley after working for Mitsui & Co., on the development and mergers & acquisitions of electric power and other infrastructure businesses. After spending about five years in Silicon Valley, Yamasaki was in charge of venture investment and business development in the clean tech field there.
Facilitated by Masahiro Kunieda, Business Lead for sustainability at Moon, this Moon Talk! provides unique perspectives from both Toyoda and Yamasaki as entrepreneurs and in-house entrepreneurs, or "intrapreneurs." 
Focusing on decarbonization as an entrepreneur and intrapreneur
Kunieda: You both are working in the decarbonization area as an entrepreneur and an internal entrepreneur. Why did you decide to focus on this field?
Toyoda: I had been focusing on the field of renewable energy since I was in a university research lab, and I had been conducting research with the idea that it would be interesting if, in the future, electricity could be colored (for the purpose of identifying the electricity to be used) and exchanged freely.
I wondered if the same kind of rapid evolution that occurred in the field of telecommunications would also occur in the energy field. I was focused on the enormous potential of renewable energy, which is said to be 200,000 times the amount of electricity generated on Earth, and was conducting research with the goal of creating a world where people do not have to worry about energy.
My mentor Dr. Abe started the company with me. When he was a student, he enthusiastically promoted research on digital grids as a specially-appointed professor in the Social Cooperation Course. Currently, he is engaged in hardware development, etc. while serving as Representative Director and CEO at DG Capital Group Inc. I deeply sympathized with the vision of "supporting renewable energy to create the future 30 years from now," which President Toyoda had been talking about for years with a twinkle in his eye. So, it was a natural progression for me to get involved in GX.
"I want to enjoy new things and work towards winning because it is an immature industry."
-Yusuke Toyoda 
Yamasaki: Since joining Mitsui, I have been involved in power-related business development within the Project Division, where I have the opportunity to notice major trend changes.
I was stationed in Silicon Valley for five years starting in 2015, where I invested in and developed joint ventures with startups in the green tech and climate-related fields. This was a major catalyst for starting a business within the GX field.
 
Overcoming challenges in product development
Kunieda: Although we are in the same field, our starting points for product development are slightly different, one from the deep-tech side and the other from the software side. Can you tell us about the challenges you faced in product development and how you overcame them?
Toyoda: Currently, we are developing software that will deliver weather-sensitive renewable energy to various companies, but at the beginning of product development, we were making hardware to control electricity in order to freely exchange power. We have developed hardware that can use electricity from storage batteries, and have also worked on demonstration projects for the Ministry of the Environment.
Around 2016, blockchain became a hot topic, and we expanded our efforts, believing that if we could combine blockchain technology with hardware to track and control it, we could realize our ideal vision.
Later on, we experienced a situation where our resources were dispersed among products that included all the functions of hardware, blockchain, and AI, but we did not have enough resources to push through each of these areas. Based on this process, we are now focusing on AI and software development.
Yamasaki: Since the initial conception of the product, we have developed the product without changing much from the theme of "energy consumption data management" as the main framework.
President Toyoda might say that we are following the textbook (laughs), but we are proceeding with development by receiving support from Moon, creating prototypes, listening to user feedback, and continuously developing the product while facing the pain points of customers.


 Kunieda: In one word, what is the secret to overcoming barriers in product development? We asked you to write it down on the flipboard. President Toyoda, please begin.

Toyoda: I wrote "calmness and passion." We are proceeding with our business with a strong passion to realize a world in which people can freely exchange electricity. To create innovation, we certainly need to push the accelerator to the limit with such passion.
On the other hand, it is also necessary to judge logically whether or not it is feasible as a business, separating it from our passion, and we feel that the level of difficulty is extremely high. In fact, there was a time several years ago when I could not find the right balance. Even now, I am trying to figure out how to create innovations that become businesses while maintaining the conflicting attitudes of passion and practicality.
One thing I try to do to keep my composure is to listen to the opinions of trusted colleagues. I try to listen to objective opinions while keeping my own vision unwavering.
Kunieda: Thank you very much. President Yamasaki, your turn.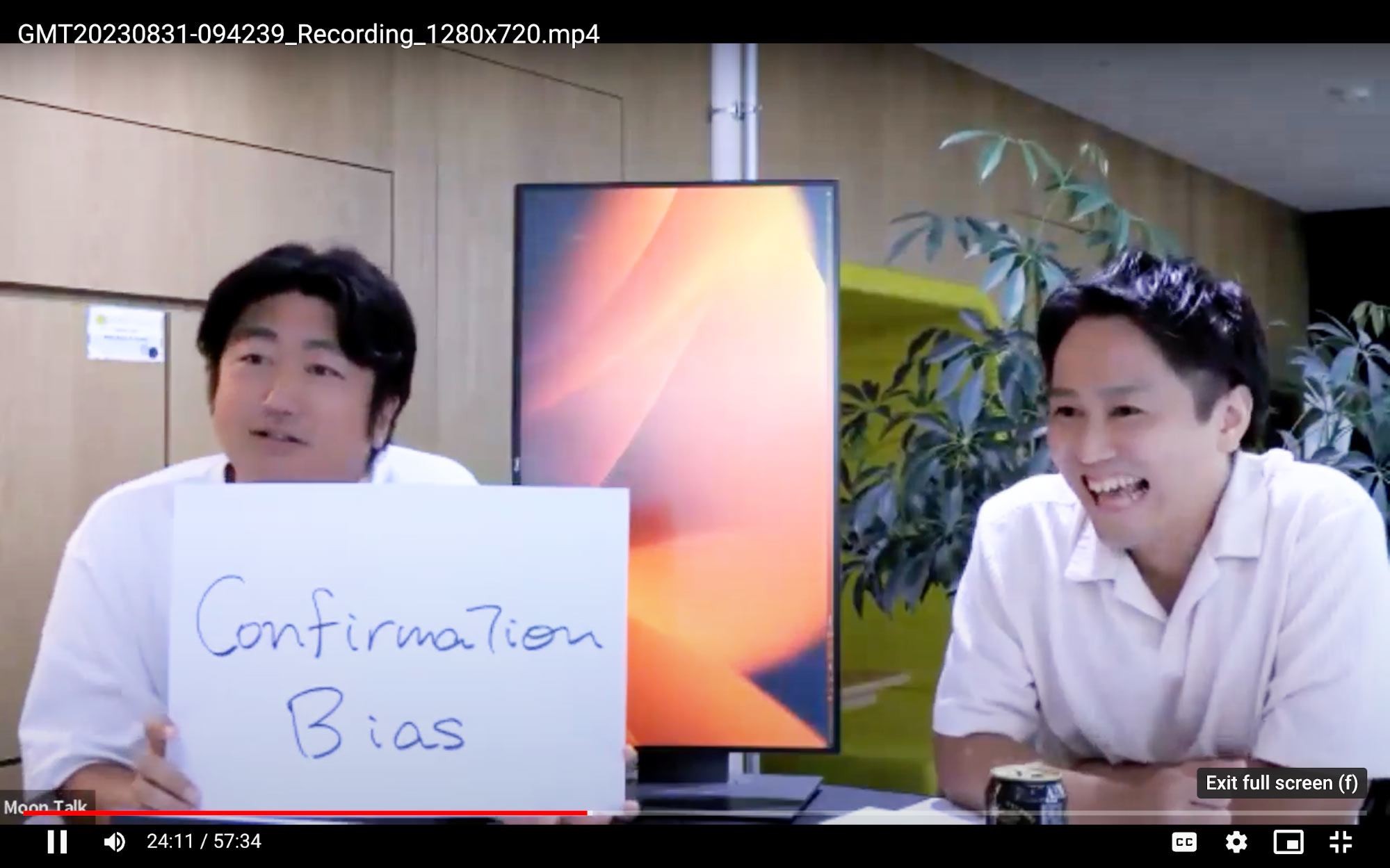 Yamasaki: I wrote "confirmation bias," a perfect match for President Toyoda (laughs)!
When starting a new business from scratch, I think there is a lot that can be driven by the strong belief that there must be a need.
On the other hand, once I start running vigorously, I try to calmly look at the situation and verify it, even though I have my own conflicts. It is challenging, but it is something I still cherish. 
Whatever it is, I want to do it! I feel that it is difficult because it starts with "I want to do it!"
 
How to realize a big vision… and involve stakeholders
Kunieda: President Yamasaki, as an operating company under Mitsui, and President Toyoda, as a corporate organization receiving numerous investments, how do you involve stakeholders in order to realize your big vision?
Yamasaki: We operate as a subsidiary wholly owned by Mitsui & Co and are working with various partners through internal connections to develop our clientele.
We have the support of an established company as Mitsui & Co., and are receiving back-office support in the areas of personnel systems, accounting, and settlement of accounts.
On the other hand, as a trading company, we did not have personnel specializing in product development, so we are hiring people who can write code. Also, due to the nature of SaaS, we are managing our organization by gathering people who can handle customer success, field sales, and other tasks.
"This is the most interesting industry and I want to make it exciting together."
-Fuyuma Yamasaki
Toyoda: In the case of Digital Grit, we have a total of 60 shareholders, of which only one is a venture capital company and the majority are large corporations. We have a very large number of stakeholders, and sometimes nearly 100 people gather at shareholder meetings!
With regard to the diversity of our stakeholders, to become the one and only platform of its kind in Japan, we have a policy of having multiple companies participate rather than just one company within one industry.
In addition, we gave those who invested in the project access to our code, logic, and other information at the time, and adopted an open innovation approach in which we received opinions as we proceeded.
Kunieda: Now, what do you feel are the advantages of both startups and in-house startups from each other's point of view? We asked you to write on the same flipboard. President Yamasaki, please begin.


Yamasaki: "Partners." Seeing the way President Toyoda is proceeding, I feel that it is a great advantage that large corporations, as shareholders, can be both customers and partners in building businesses.
As written in Practical Theory of New Business by Yoichi Aso, the founder of Alpha Drive, the difficulty in spinning out from a large corporation to create a business is fundraising. From this point of view, I feel that having the support of many partners is a very big advantage for us.
Kunieda: Thank you very much. Now, President Toyoda, please begin.

Toyoda: "Strong and new game." In talking with President Yamasaki, I think that starting a new business from a company with a long history is like a game where you can start the battle with a high-level weapon from the beginning.
For example, we can develop products with Moon's support and deploy back-office know-how. I feel that the ability to utilize and customize such assets is a great strength.
For people who create something from zero to one in a startup, there are some inefficiencies, and even a single HR system needs to be built over time. If we can take the know-how we have developed over our long history and turn it into something optimal, it would be a great weapon.
On fundraising and hiring
Below are questions from the audience that the panel answered.
What is the best way to hire reliable engineers?
Yamasaki: It is important to hire the first excellent product manager. From there, it will be easier to hire all the way through.
Do you have any advice on fundraising for each stage?
Toyoda: It is important to fulfill the promises and milestones at each stage, one by one, and even if stage advancement is not always possible, it is important to explain the causes and next steps to be taken and proceed.
 
Moon Talk! will continue to deliver information on innovation in companies, stories of startup founders, and deep-dives into design and technology, all of which will be useful for future business strategies and new business creation. Check out upcoming events from Moon at https://www.mooncreativelab.com/orbit.